Eldest is the second book of the fantasy fiction Inheritance Cycle series, written by Christopher Paolini. Just like the previous book – Eragon – this one became a New York Times bestseller. The book continues with the adventures of Eragon and Saphira, as they have to journey to the realm of the Elves to train as a Dragon Rider. Roran and Nasuada are also the focus of the novel. This book was also a Publishers Weekly, USA Today, and Wall Street Journal bestseller. It was the Book Sense book of the year. If you want more of the series, consider Inheritance.
The worst thing about having Gerard Doyle narrating the book is his take on the dragon Saphira. He has made her sound like an unintelligent, barely understandable, and brutish creature. She is a magical, majestic, and incredibly intelligent creature. It would have been better if the portrayal was accurate to the source material.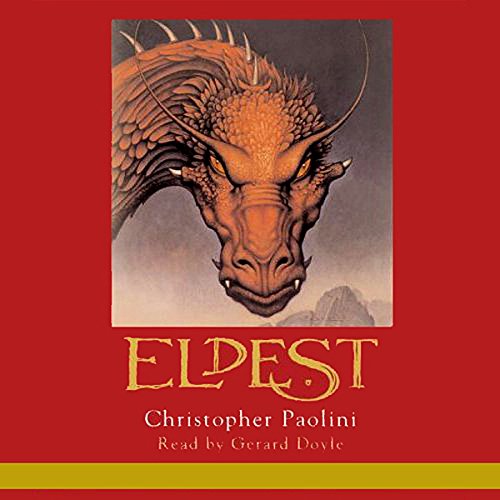 Eragon and Saphira have saved the rebel state from destruction by defeating the forces of cruel King Galbatorix. Soon, Eragon will be on the journey of a lifetime, as his eyes open to new places and people. Yet, chaos and betrayal will meet him at every step of the way. Eragon will have no idea who he can fully trust.
The question remains: will the King's evil hand strangle all sorts of resistance? It is upon Eragon to survive so that he can challenge that corrupt monstrosity.
Friendship, honor, and loyalty are the themes of the book. Although it is considerably longer and denser than the first one, it is dark, suspenseful, exciting, and imaginative. Its length doesn't take away from the enjoyment. Not many sequels are on the level of the predecessor, but this might have hit the mark.
Full Audiobook