Kiss of Frost is book 2 of the series known as Mythos Academy. It is written by Jennifer Estep. She is an American author mostly known for urban fantasy and paranormal romance. If you seem interested in this series, make sure to check out Touch of Frost and Dark Frost which are book one and book three of the same series respectively.
Tara Sands has handled the narration of this novel. She has performed a marvelous job by many standards. She has especially voiced the main character very well with her excellent range of voice. She has given much life to the story. For other characters, she has given them their unique tone with sounds very nice indeed.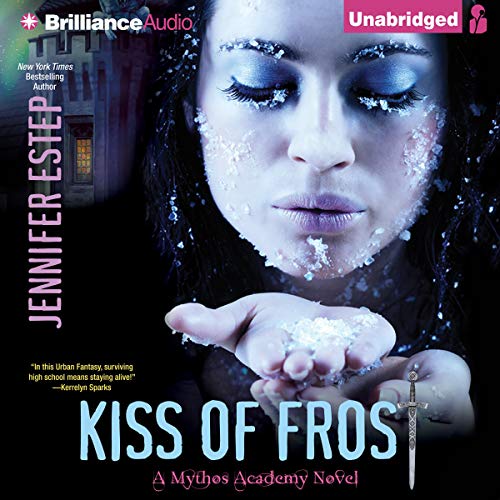 This story revolves around the character of Gwen Frost. She is a second-year warrior-in-training at the Mythos Academy. She has no idea how she is going to survive her semester. She is getting schooled by the guy who broke her heart; her Spartan classmate – Logan Quinn. He was trying to kill her. He pursued her relentlessly while swinging his sword again and again. Every time, the blade inches nearer to her throat as a smile is stretched across Logan's face. Another day, an invisible archer in the Library of Antiquities decides to use her as target practice. This is not going in Gwen's favor, and things are about to get worse. She finds out that someone at the academy is a Reaper bad guy who wants her dead. Now, facing a life and death scenario, she must learn to live by the sword. She must employ Logan's help, and then it all depends on fate whether she survives her ordeal or is eliminated as a result of it.
Full Audiobook