The Last Coyote: Harry Bosch Series, Book 4 is a crime novel and belongs to the Harry Bosch series. It is written by Michael Connelly and won the Dilys Award from the Independent Mystery Booksellers Association in 1996. Make sure to check out A Darkness More than Night and The Law of Innocence by the same author.
Dick Hill has done the narration of this book. While it is nothing special, it won't detract you from enjoying this book. He is simply a good narrator without venturing into the great category.
The title of this book is about the lone coyote that Harry has dreamed about. He discusses it with a therapist who interprets the dream as Harry thinking he is a unique policeman. There are none left like him. And just like the coyote, he is scared that his type might perish soon.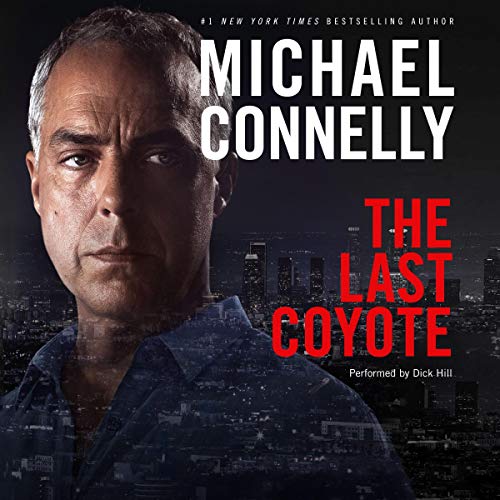 Harry has unfortunately gotten himself involved in a workplace violence incident. He must now attend mandatory therapy sessions and is put on involuntary stress leave. At first, he is reluctant but soon opens up. He realizes something has been troubling him for a long and this might be the best time to address it. He opens up to Carmen Hinojos, a police psychologist. When Harry was twelve, his mother, a prostitute was brutally murdered. This was an unsolved case as no one was ever accused of the crime.
Finally, Harry feels like he has spare time to address the dark secrets of the past. He has avoided it for so long and realizes that it must have been a cover-up. He feels that someone powerful was involved that diverted justice and he must unmask the culprit. What he doesn't realize is that this case could push Harry to the edge of not only his career but also his life.
Full Audiobook