The XFM Vault is the entertaining collection of the best bits from the Ricky Gervais Show on Xfm. It has been performed by Ricky Gervais, Stephen Merchant, and Karl Pilkington. It is volume 2 of such a collection. If you want to hear more from these three, consider Ricky Gervais Show: Season 3, Episode 6. Furthermore, you can also try Ricky Gervais Show: Season 3: Episode 1 for a good laugh
The three performers of this show have done a great job. Whenever you have Ricky and Stephen on the same platform, the result is an inevitable genius but you take it up a few notches when you add in Karl.
Ricky and Stephen first met Karl on The Ricky Gervais Show on Xfm. They have been babbling on ever since and went on to create one of the most downloaded podcasts in history. This volume includes archived material from the second series of the show, which includes classics such as 'Do You Need 'Em', 'Man Moths' and 'Educating Ricky'.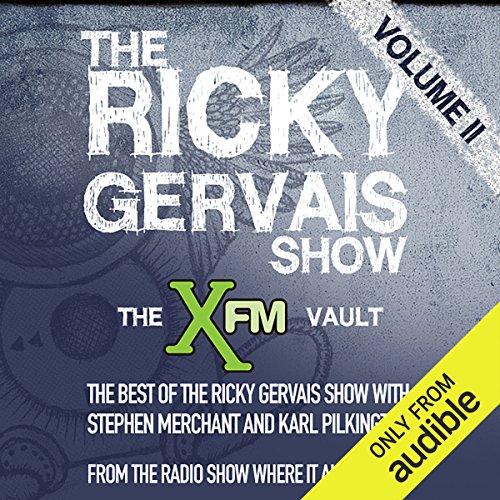 The audiobook has Ricky and Stephen pick Karl's simultaneously under-used and over-used mind. Both aforementioned are men of intellect, who can talk on any topic, however, Karl is not like them. Thus, they put forward any topic where they realize Karl's gullibility will be revealed. Ricky and Stephen constantly pick on Karl's misguided and fallacious beliefs and it makes for a fun conversation. Instead of being offended by Karl's views, it is on the contrary very entertaining.
This audiobook is the stuff of comedy legend. It is hours upon hours of total bliss. Fans of the show should consider this. People who are familiar with any of the three won't regret trying it out.
Full Audiobook